New Jersey Child Custody Lawyers: Parenting Agreements Make Holidays Easier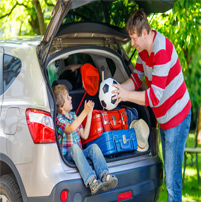 Much to the delight of children everywhere, the holidays are quickly approaching – but domestic strife can just as quickly dampen an otherwise happy occasion. When a couple is recently divorced, emotions understandably run high between Thanksgiving and the New Year. However even spouses who have long since divorced or who enjoy an amicable relationship the remainder of the year may find themselves feeling less than festive. Fortunately, with proper planning and open communication, the holidays can once again become a time to celebrate. A parenting agreement removes much of the guesswork for divorced parents who are eager to plan holidays with their children.
When one holiday – such as Thanksgiving – carries special significance for one parent but is less significant for the other parent, a parenting agreement can specify with whom the children will spend the holiday. Similarly, when parents practice different faiths their preference for parenting time on certain religious holidays can be memorialized in a parenting agreement. If parents are unable to reach any agreement on which holidays will be spent with whom, a common sense approach involves alternating the holidays by calendar year. Additionally, parents may agree to split the holiday in half or to allow their children to celebrate the holiday twice.
Another potential stumbling block involves holiday travel. As children grow older. vacations are often timed to coincide with holidays. For others, the built-in break in the school calendar presents a convenient opportunity to visit far-off relatives. Parents who are considering holiday travel should notify their former spouse as soon as possible, avoid making travel plans that will infringe upon a preexisting arrangement and if necessary, make sure your spouse is in agreement with any changes you may need to make to the parenting time schedule, ahead of time.  You don't want to spend time and money making travel plans if your spouse is not in agreement to the proposed change.
Mediation for Disagreements
In particularly acrimonious divorces, parents are occasionally unable to arrive at any agreement regarding parenting time during the holidays. When an impasse is apparent, the matter can be submitted to a family court judge and the parties can attend mediation to work out a compromise.
New Jersey Child Custody Lawyers at Lyons & Associates, P.C. Create Parenting Agreements That Work
A well-drafted and mutually-beneficial parenting agreement can ward off the hurt feelings, miscommunication, and resentment that might otherwise sabotage a holiday season. Whether you are contemplating your first parenting agreement, need to revisit a pre-existing parenting agreement, or anticipate resistance to your upcoming holiday plans, contact the New Jersey child custody lawyers at Lyons & Associates at 908-575-9777 or submit an online inquiry.