Co-Parenting and Extra-Curricular Activities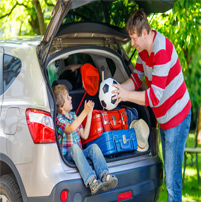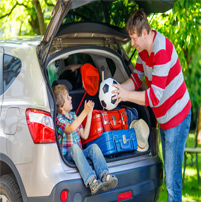 One of the most stressful parts of co-parenting after a divorce is the management of a child's extra-curricular activities considering existing visitation schedules and child custody arrangements. Trying to achieve the delicate balance between providing extra-curricular activities and not overloading a child's schedule can become a source of contention between ex-spouses. To help overcome the challenge of planning extra-curricular activities within a divorced family, co-parents should remember the following tips.
Include Both Parents' Decisions
Both parents should be involved in all decisions regarding the enrollment of a child in extra-curricular activities. When both parents understand and agree to the time commitment and costs involved in any extra-curricular activity, things will go much smoother.  Many divorced couples create a parenting plan at the time of their divorce to address how these types of decisions will be handled as a child grows older and wishes to participate in more activities.
Respect Parenting Times
Often a parent will object to a child's participation in an extra-curricular on the basis it interferes with their scheduled parenting time. This frequently occurs when one parent only sees the child on a set schedule, such as every other weekend. If extra-curricular activities will cut into an ex-spouse's parenting time, it may be necessary to revisit the custody agreement or provide a more flexible visitation schedule to allow the child to spend time with that parent.
Share the Parental Responsibilities
All extra-curricular activities will place additional responsibilities on parents, such as driving a child to and from sports practices and games, music lessons, and recitals, or picking up children at school after club meetings. Good co-parenting involves sharing the chauffeuring duties, if possible.
Another parental responsibility relates to the cost of many extra-curricular activities. The financial costs associated with extra-curricular activities, including the costs of lessons, equipment, instruments, and supplies can be substantial. Pre-determining how these costs will be paid can avoid major battles between co-parents. Many parents may need to revise existing child support payments considering the increased parenting costs associated with extra-curricular activities.
Keep the Other Parent Informed
Communication between co-parents becomes especially important when a child is involved in extra-curricular activities. Providing practice and game schedules and informing ex-spouses about upcoming concerts or other significant activities will allow both parents to support their child's interests. Listing both parents as primary contacts on extra-curricular registration forms is another way to ensure each parent receives all pertinent emails and information with respect to the activities.
Some co-parents share an on-line calendar to track the complicated extra-curricular schedules of their children who may be involved in more than one activity at any given time. Access to on-line calendars can be extended to step-parents or other family members who have become part of your child's extended or blended family. Google Calendar and Our Family Wizard are two popular on-line calendar options. Proving plenty of notice of upcoming events to an ex-spouse can create opportunities where both parents attend important events together to the benefit of their child.
Somerville Child Custody Lawyers at Lyons & Associates, P.C. Assist Divorced Families with Child Custody Arrangements
If you are a divorced parent seeking assistance with child custody, child support, or child visitation issues, the experienced Somerville child custody lawyers at Lyons & Associates, P.C. are here to help. To schedule an initial consultation today at our Somerville, New Jersey office, call us at 908-575-9777 or submit an online inquiry form. We serve clients from the surrounding areas, including Somerset, Woodbridge, Morristown, Parsippany, Rockaway, Short Hills, Chatham, Randolph, Madison, and Morris Plains.