When a Non-Custodial Parent Fails to Help Their Child With Homework During Mid-Week Parenting Time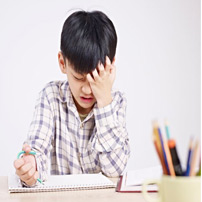 The old saying, "My dog ate my homework" may work for a child, but in the Court's eyes, it may not suffice when it comes to a parent's responsibility to assist his or her child with homework during the school week.
In the recent unpublished trial court opinion M.C. v. P.C., 2016 N.J.Super, Unpub. LEXIS 2594, Judge Jones stressed the importance of the non-custodial parent's obligations during mid-week overnight parenting time which includes, but is not limited to, helping their children with completing their homework.
Judge Jones determined, as a matter of law, that while mid-week parenting time is not per se contrary to a child's best interests, the non-custodial parent implicitly bear duties during his or her mid-week parenting time to oversee the child's homework is completed and he or she is ready for the next day of school.
Judge Jones also suggested the follow protocol that requires cooperation of both parents to act in their child's best interests and in line with the New Jersey Custody statute:
1) First, the parties will jointly request in writing that the children's teachers advise them jointly in writing, via email if there is any significant observations or concern regarding a child being fully prepared for class on any day, including homework completion, test preparation and performance, and in-class alertness;
2) Regarding homework, it is defendant's affirmative obligation during his overnight parenting time to make certain that all of the children's homework, including assignments and readiness for any scheduled tests the next day, are complete. In the event that there are any incomplete assignments, defendant has an affirmative obligation to notify plaintiff by email by the children's bedtime on that evening as to what assignments have not been completed by the children and the reasons they were unable to complete same. This way, in exceptional circumstances requiring plaintiff to intervene the following morning before school to help the children complete any incomplete or missing assignments, plaintiff will at least have some reasonable advance notice of the situation;
3) If plaintiff alleges that homework has not been completed and that she has [*23]  to prepare children on the morning of school due to defendant's alleged failure to oversee the children's scholastic responsibilities, then to the extent possible she shall document any and all missing or incomplete assignments as well as any work which she had to do with the children on such days, and she will forward copies of this information to defendant within 5 days thereafter with scanned attachments as applicable, so that an ongoing record of any such problems is in the possession of both parties, and so evidence of such documentation may be supplied to the court as necessary upon further application.
4) If missing or incomplete homework or inadequate test preparation by the children remains an ongoing issue of concern, then the parties may schedule a joint meeting with any of the children's applicable teachers to discuss same. Any such discussions, however, shall take place in a manner where both parties treat each other with dignity in a mutually respectful, mature, and courteous manner, with an understanding that such civility between parents is overwhelmingly in their children's best interests. Further, either party may file further applications as necessary to address any [*24]  ongoing disputes of significance regarding the children's educational progress and development.
M.C. v. P.C., 2016 N.J. Super. Unpub. LEXIS 2594, *22-24 (Ch.Div. Nov. 28, 2016).
So, does a non-custodial parent's failure to help their children with homework result in a change in the parenting time arrangement? Not necessarily; it is fact-sensitive as with many family law matters and turns on the actual evidence.
As you can see, mid-week parenting time arrangements can have the potential to greatly affect a child's best interests.  For more information regarding parenting time arrangements contact the Law Office of Lyons & Associates.  At the law office of Lyons & Associates, we represent men and women throughout New Jersey who have unresolved family law matters.  We place a premium on personalized service and attention. For a private consultation, contact us online, view our website at www.lyonspc.com, or call our office at 908-575-9777.
By: Marissa DelMauro